Last Saturday, about 400-something crazed metallians milled in past the gaudy lights, tourist herds, filthy hobos and lurking con-artists of Times Square to see the latest "Hordes of Chaos" tour package: veterans Kreator and Voivod being the main draws, with the opening bands Nachtmystium, Evile, and LaZarus A.D. This examiner couldn't be bothered to show up on time, and so completely missed out on whatever LaZarus A.D had to offer. No big deal: the whole "groove metal" subgenre became irrelevant ever since Dimebag got pumped full of lead by one of his own fanboys, and bands like these are hangers-on who will be forgotten before this millennia even enters its teens. Moving on!
Evile took the stage next, and they were charming enough with their Northern-English accents and their genuine desire to keep the flame of classic speed metal alive. You also had to sympathize with the fact that their original bassist quite literally dropped dead while on tour just a couple months ago. Unfortunately, their music isn't too remarkable: the songs mostly follow the predictable shout-chorus template that proves to be the biggest limitation of this genre. Still, they were far from horrible, and could stand to scale new heights if only they would drop the modesty.
Voivod's Denis "Snake" Belanger (L) and Blacky (R)
Nachtmystium's set followed soon after; with their self-coined style of "psychedelic black metal", they were definitely the odd ones out on the lineup. Correspondingly, they were regarded with confusion by many of the attendees, outside of a couple of guys in Mayhem shirts who raised The Claw in grimkvlt appreciation, without realizing that what they were listening to barely sounds like the hellbound symphonies of De Mysteriis Dom Sathanas–it's more like tremolo-picked alternative rock, if anything.
Voivod's entrance was heralded by those infamous droning tritones that introduced their 1984 debut; they went right ahead and tore into their eponymous anthem with all the punkish furor of their earliest days–though of course, with Martyr guitarist Dan Mongrain channelling the spirit of dearly deceased founding member, Denis "Piggy" D'Amour. Original bassist Blacky, who hasn't toured America with his old band for 20 years, seemed thrilled to be back in commission, even if barely any of the kids knew who he was. Frontman Snake dedicated the show to Piggy before leading the band through a setlist extracted from each one of the 80′s albums, delivering the lyrics in his inimitable extraterrestrial warble. Not too long into the set, though, somebody threw a huge cupful of ice cubes onto the stage. Unfazed, Snake kicked the ice right back into the audience, and Blacky dove down to flip some of the cubes into his mouth–he then quipped sarcastically, "You guys are disgusting!" (although given his reputation as the band's angryman, he might have been serious). The only new song they played was one off Infini, which was jarringly rock-n'-roll compared to their classic repertoire; fortunately it was only their second-to-last song, as they chose to end with their dynamic rendition of "Astronomy Domine" before vanishing into a wash of feedback.
Kreator's Sami Yli-Sirniö
Kreator were the hotly anticipated headliners, and they took to the stage after airing the ambient intro from their magnum opus, Pleasure to Kill. But instead of launching into "Ripping Corpse" a la the album, they opened with "The Pestilence" just to screw with the audience, presumably. The rest of their setlist was something like a 50/50 ratio of 80′s material to all the newer and utterly boring dreck, which even included a track from Outcast. However, the thoroughly inebriated crowd didn't mind the spotty song selection at all: they just seethed into a maelstrom of flying limbs and formed a circle-pit that even Mille Petrozza had to praise. Speaking of Mille, here is a man who has weathered over 25 grueling years fronting Kreator shows virtually non-stop–he knows how to get exactly what he wants out of an audience, and commands them to action with fascist authority (fitting, considering his passing facial resemblance to Mussolini). Before closing the encore with the mandatory mainstay "Flag of Hate", Mille insisted he wouldn't play the song until "every f***ing girl and every f***ing guy in the audience says f***ing 'HATE' as loud as they can!" And the crowd obeyed with murderous enthusiasm. Shame that this band feels obligated to keep on releasing artistically-bankrupt studio albums (expect another one next year), because they are entirely able to tour on the strength of their 80′s catalogue alone.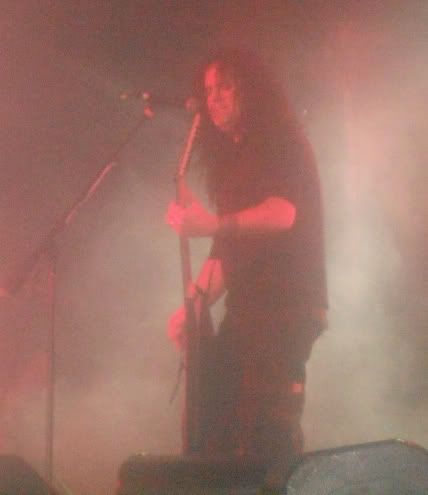 Mille Petrozza (top), Jürgen "Ventor" Reil (bot.): Founding members of Kreator
For more info: As of this writing, Voivod are wrapping up their American tour with their SXSW festival appearance. If you missed them, go ahead and kick yourself: who knows when, if ever, they'll be back? Kreator are embarking on the Western leg of the Hordes of Chaos tour 'til the end of March, this time with Kataklysm.